DIY Tutorials
How to Install a RV Keyless Door Lock
Project
Room
Cost
Skill Level
Did you know that many RV manufacturers use the same lock and key? This means that your neighbors could potentially use their RV key to get into your rig! Now is the time to upgrade to an RV keyless door lock. It's a quick and easy DIY project.
What is The Best RV Keyless Door Lock?
If you're tired of struggling with keys to lock and unlock your camper, I highly recommend this latch.it RV Keyless Entry Lock. The entire installation process took about 5 minutes and fit right into the existing door handle cutout.
Some features of this keyless lock system that make it one of the best on the market are:
It's 100% metal
Has a backlit keypad for easy entry at night
You can enter your trailer by 3 various methods: keypad, key fob, or mechanical key
The key fobs work up to 80 feet away
The lock will fit most trailers with an opening of 3.75″ x 2.75″ x 1.5″
It's a USA-owned family business!
How to Choose a Keyless Door Lock for Your RV
There are many options on the market for keyless door locks for your RV. When comparing the different models and brands side by side, there are a couple of things that you should make note of.
Types of Keyless Entry
There are a variety of keyless entry methods to unlock your RV door. The system you should choose should include more than one method so you don't end up locked out of your rig if the system's battery dies.
Keypad – this method requires you to program a unique combination code into the system. This method is great if you have kids who are prone to losing their house keys or if you are renting your RV. The combinations are easy to reprogram as needed.
Key fob or wireless – if your tow vehicle uses a key fob then you're familiar with this entry method. Using a remote key fob, you can unlock your RV even from a distance.
Bluetooth – we're glued to our phones anyway, so why not unlock your RV from your smartphone too? Some high-end keyless entry systems utilize Bluetooth for locking and unlocking their systems. Don't let your phone die or you'll be stuck sleeping under your picnic table.
Key – this last entry is what you're trying to get away from by going keyless, but it's always reliable to get you into your rig. A quality keyless system should have a good ol' mechanical key as a backup in case the keypad battery dies, you lose your key fob, and your phone is dead.
Size and Fitting
Before you start taking apart your RV door, make sure that the keyless RV door system you're purchasing is the correct size.
Review the existing dimensions to ensure the lock will fit.
Step back and take a look at any possible obstructions that might get in the way. Also, take note of which side the hinges are on – there are systems for left side doors and right side doors.
Confirm the latch and deadbolt style. The new lock should use the same style latch and deadbolt as your old one.
How Much Does it Cost?
Most keyless RV door systems are going to cost less than $200. If you have a unique door style – like a Class A motorhome – you might end up spending a little bit more.
How to Install a RV Keyless Door Lock
Installing your new keyless door lock is easy. Here's a step-by-step guide.
Package Contents
1 – RV Door Lock
2 – Wireless Key Fob Controllers
1 – Mounting Hardware Set
1 – Easy-to-Install User Manual
4 – AA Batteries
2 – Mechanical Keys
Bonus #1: Door Lock Protection Gasket
Bonus #2: Long Screwdriver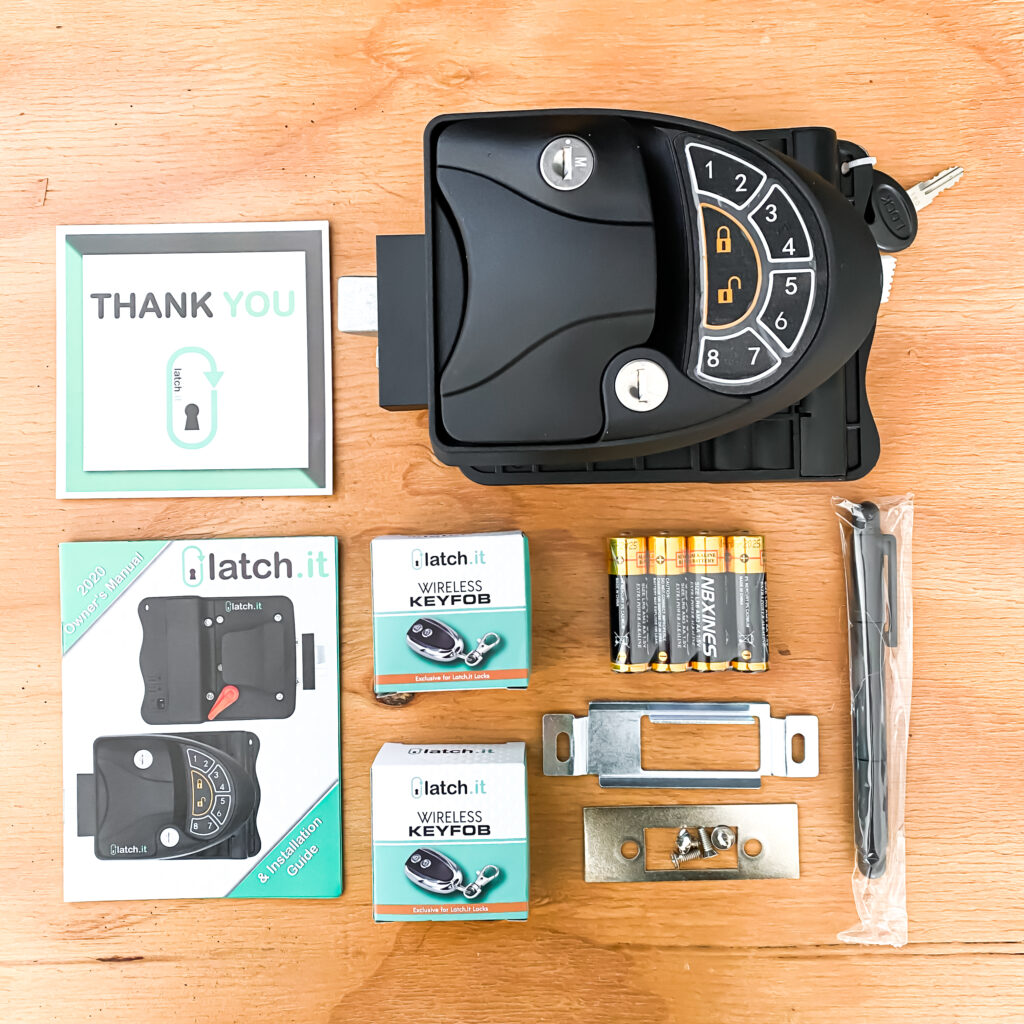 Instructions
Remove the existing RV door handle by unscrewing the 4 screws on the inside of the door. Then, remove the 2 screws from the side strike plate. The handle will pull right out.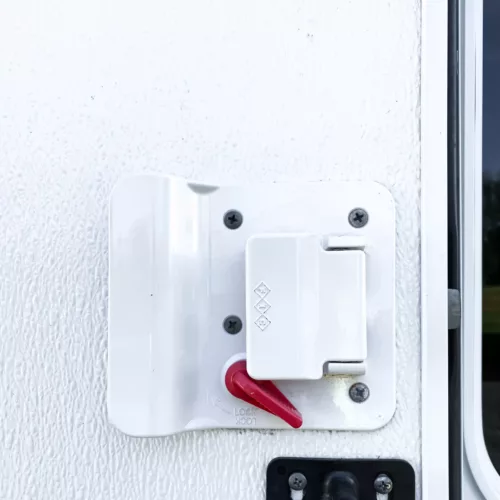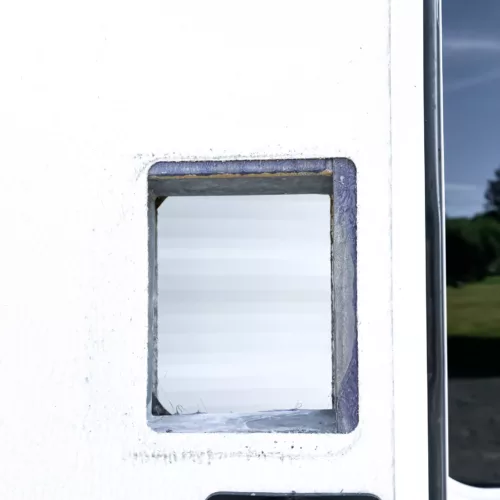 Insert the batteries into the new latch.it Keyless Entry Lock. Then, carefully slide the front face into the cutout in your RV door, pull the wires through, and attach the new strike plate.
Connect the wire harness on each lock face.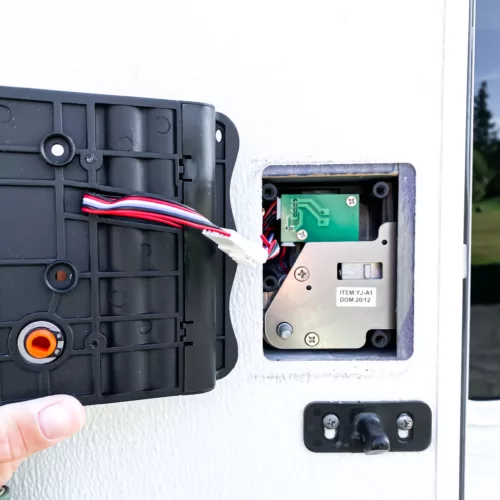 Attach the two lock faces with the 4 long screws. Be sure not to pinch any wires.
Program your key fob and keypad based on the user's manual and you're all set!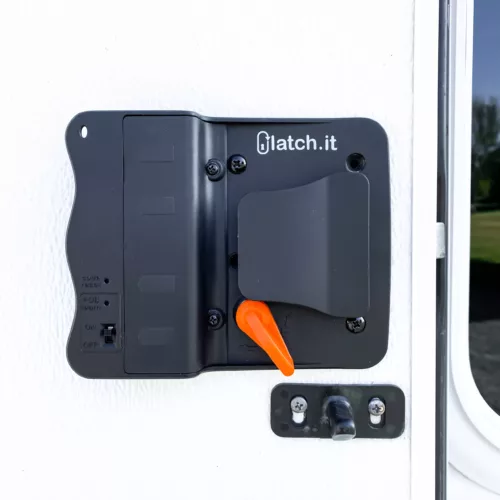 Ready to upgrade your RV further? Check out the Benefits of Upgrading Your RV Battery to a Lithium Iron Phosphate Battery.